Conti® Synchrochain Carbon
The ContiTech Power Transmission Group is a developer, manufacturer and supplier of power transmission belts, components and complete belt drive systems. The company is once again demonstrating its market- and customer-focused expertise, this time with the new Conti® Synchrochain Carbon. The new polyurethane heavy-duty timing belt with a carbon tension member offers several advantages over other timing belts.
SilentSync®

Static conductive* and engineered to deliver up to 98% energy efficiency, SilentSync belts and sprockets offer:
Up to 19dB less sound than straight-tooth belts
Over 1,500 possible sprocket combinations
Exceptional high-temperature operation of 200°F (93°C)
Continuous rolling tooth engagement
Up to 25% more power capacity*
Falcon Pd®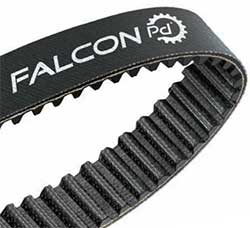 Demand more from your drive systems. With Falcon Pd® you can expect the same long-lasting, maintenance-free performance in your low-speed, high-torque drives that you get with the rest of your drive systems.Our advanced rubber compounding research results in a synchronous belt with distinct advantages. Falcon Pd® has exceptional tensile strength and greater flexibility than polyurethane, improved backside idler capabilities** and resistance to chemical and oil breakdown. Plus, the system is specifically designed to accommodate today's high-efficiency motors, with a heightened power transfer. When compared to conventional polyurethane synchronous belts, Falcon Pd® matches competitive HP tables and offers numerous benefits, including quieter operation and better resistance to both flex fatigue and higher operating temperatures.
Hawk Pd®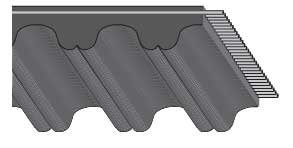 A premium universal tooth profile belt made of molded high-performance rubber composite, offering greater horsepower capacity and performance and a superior MRO retrofit to many existing drives.
Available in 5mm, 8mm, 14mm and 20mm sizes, for greater productivity and efficiency
Sprocket compatibility with Gates HTD,®* Power Grip GT®* and GT®2,* Carlisle RPP and RPP Plus™* and TB Wood's Synchronous QD®*
Enhanced compound affords greater flexibility, less flex fatigue and longer life
Improved tooth facing for greater abrasion resistance
100% greater life expectancy than previous belt
Industry-compatible nomenclature for easy part number interchange
*Gates, Poly Chain and GT are trademarks of the Gates Corporation.
Blackhawk Pd®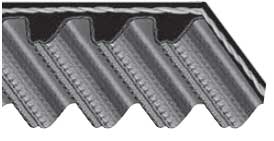 A high-performance synchronous belt with aramid cords for use in rigorous synchronous drives requiring premium performance and made with quality materials and construction. Designed to outperform traditional drive systems and reduce unnecessary downtime.
Universal tooth profile – Designed and manufactured to fit many high-capacity synchronous applications and can perform in: Dayco® RPP™ Panther,® Browning® RPP Panther and TB Wood's QT Power Chain® sprocket profiles
High-capacity performance – Exceeds the traditional speed limitations of chain and performance limitations of belt drives with higher horsepower rating and notably longer life
Tooth profile – Resists ratcheting and provides accurate positioning for synchronous drive applications. Upgraded Hibrex® materials and Plioguard® tooth facing enable the teeth to engage the sprocket smoothly
Aramid tensile members – Provides excellent dimensional stability and high-impact strength requiring little retensioning and less drive maintenance
Super Torque Pd®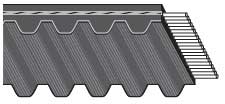 High in power capacity and an excellent alternative to chain. Uses include conveyors, milling machines, lathes, shapers, mixers, timers or controllers, wood chippers, debarkers, compressors, cam drives and ICEs.
Long belt life
Low noise levels
No lubrication problems
No corrosion problems
Less vibration
Much quieter than chain
Positive Drive Pd®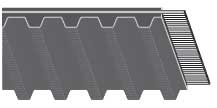 A traditional trapezoid tooth profile synchronous for drives requiring exact timing and high speed. An excellent lightweight and compact alternative to problem V-belt and chain drives.
Reduces cost compared to chain and gears
Fiberglass tension cords for dimensional stability
Nylon facing provides the most durable tooth wear facing available
Dual Hi-Performance Pd®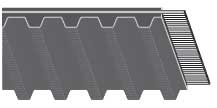 A dual round tooth synchronous belt transmitting power from both sides of the belt allows for changing the direction of synchronized pulleys with a single belt. Wide applications include printing presses and business machines.
Saves space
Reduces drive weight
Reduces drive component costs
Universal drop-in replacement