HLB Remote Grease & Lubrication Hose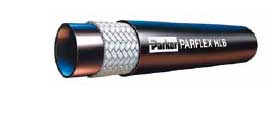 Don't let 5 of grease shut down a $75,000 piece of equipment.
Plant Services magazine estimates that 90% of all bearings are lubricated with grease, and 80% of bearing failures are lubrication related. Proper lubrication is essential to extending the life of a bearing. Grease serves three main purposes: providing lubrication, preventing wear (or damage) from contaminants and inhibiting corrosion.
Excessive Downtime
Grease zerk nipples are often inaccessible on today's crowded equipment. As a result, preventive maintenance takes too long to complete or is not completed at all. A maintenance person can easily spend 5 to 7 minutes reaching an inaccessible grease zerk and still not inject enough grease into the bearing. Poor lubrication and bearing selection account for approximately 34% of premature bearing failures and contamination accounts for another 16% of premature bearing failures. This results in excessive downtime, costly replacement of damaged components and lost productivity. Awkward positioning of grease fittings also creates the dynamics to induce a high-pressure grease injection injury.
Parker's Solution
Parker's HLB remote grease hose makes it easy to properly perform quick & effective preventive maintenance on all types of industrial, mobile, and transportation equipment. These lines connect grease port locations to a convenient service access panel where grease can be manually distributed throughout the machine. HLB hose utilizes a panel mounted hose fitting with integral zerk fitting port. Locknuts, zerk nipples, and caps can also be sub-assembled.
HLB – Remote Lubrication Hose
Features
Ultra small bend radius reduces the need for hose elbow fittings or adapters.
Unique GK bulkhead hose fittings with integrated nipple can save money per zerk connection in unnecessary adapter costs.
Compact 1/8" hoses save hundreds of dollars of waste in your operation by eliminating gallons of unnecessary "in-line" grease versus larger bore rubber hoses.
Certifications Construction Tube: Copolyester
Reinforcement: Fiber
Cover: Polyurethane
Operating Parameters Temperature Range:

-40°F (-40°C) to +212°F (100°C)
Synthetic, synthetic blend, water, and water/oil emulsion hydraulic fluids limited to +135°F (+57°C)
BU Series Field Attachable Fitting limited to 120°F (53°C)
Vacuum Rating: 28 inch Hg
Change in length at Max. Working Pressure: +/-3%
Min. Burst Pressure is 4x Max. Working Pressure at 73°F (23°C)
Fittings CY Series BU Series
For most Parker products, Crimp Die Selection charts can be found online at www.parker.com/crimpsource
Colors Black
Notes

Not for use as a whip hose on hand-operated grease guns



Applications/Markets
Grease and lubrication lines
Agriculture
Construction
Industrial
Material Handling
Mobile Equipment
Transportation
General purpose hydraulic systems