Live Swivels

Swivel Joints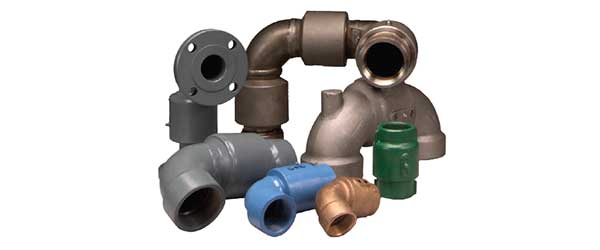 Applications:
Used wherever a leak-proof swivel connection is needed in pipelines or in combination with hoses to eliminate hose twisting
Industries range from petroleum, petrochemical, refining, mining, distilling, paint, farm irrigation and fertilizing, wastewater treatment plants and food and beverage process equipment. DixonŽ swivel joints are found in blending plants, drum filling applications, fluid and dry bulk transfer, vacuum trucks, oil and gas trucks and water trucks. Larger swivels can be found in the steel industry, marine bulk transfer and many more.
Features:
Full 360° rotational movement
Wide spacing between dual ball bearing raceways ensures greater load bearing capacity
Precision-machined design ensures alignment and trouble-free service
O-ring dust seal protects the ball races and seals chamber from outside elements
Radius elbow design ensures a smooth flow pattern
Hydrostatic testing is performed on all swivels before shipment
Options Available:
End configurations: female NPT,150# flanges, TTMA flange, grooved, weld end and many other variations
Seal options: Buna, FKM, PTFE, EPDM, FDA Buna, FFKM
Ball bearing materials: carbon steel, 440 stainless steel, and 316 stainless steel
Grease materials: Lithium, FDA approved/food grade and silicone
Swivels that include oxygen, steam or submerged service can be specifically designed for unique applications (special order)
100% full penetration weld
Re-build kits
Custom swivel options available, contact Dixon® at 877.963.4966
Operation / Service
Dixon® swivels are recommended for use at the following maximum Non-Shock Cold Working Pressures (NSCWP) provided in PSI at ambient temperature 70°F (21°C) for 1" – 12" sizes:
Aluminum: 150 PSI
Brass: 300 PSI
Malleable iron: 600 PSI
Carbon steel: 1000 PSI
Stainless steel: 1000 PSI
When using flanged ends, the pressure rating will be reduced to coincide with that of the flange being used. Carbon steel and stainless steel 150# flanges are recommended for use at 275 PSI maximum and 300# flanges at 740 PSI at ambient temperature 70°F (21°C).
Lubrication should be performed periodically, depending on service and operation conditions. Biannually is normally sufficient.
All dimensions are approximate. Where critical, consult Dixon®.
Use with Hose
The use of swivel joints to compensate for twist in hose (i.e. Style 20 or Style 60) should be carefully reviewed, since the hose must be sufficiently stiff to generate the torque needed to actuate the swivel before it kinks.

In many installations, the twist is caused by lateral movement that can be eliminated by the use of a swivel joint (i.e. Style 40 or Style 30).

Where this is not possible, the use of hose swivels may be a solution. Hose swivels are generally non-ball bearing designs that require less torque to initiate rotation; hose swivels are not designed for load bearing service.

Some hoses are unable to generate even the low torque required for a hose swivel, many metal hoses fall into this group. Other hoses are stiff enough to turn almost any swivel, many armored hoses fall into this group
Pricing
All pricing available upon request. Please contact Dixon® for pricing and proper equipment selection for the correct application.

Every swivel joint is built to order, due to this, they are not generally returnable. Return requests will be reviewed on a case by case basis. Restocking charges will be applicable on the accepted returns. Restocking charges include 15%, plus any additional costs incurred.
Swivel Styles
Single Plane

Double Plane

Triple Plane