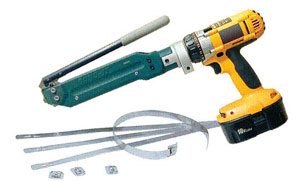 • Faster- Field tests confirm Ultra-Lok installations
are 4 times faster than traditional Band and Buckle.

• Versatile - The UL4000 tensions 3/4" or 1/2"
wide single or double wrapped Free End
clamps with an optional 1/2" shear plate.

• Stronger - Only Ultra-Lok offers high tensile
Stainless Steel band which is 25% stronger
than typical Municipal steel bands.

• Tighter - Increased power and lock under full
tension makes UL 4000 installed clamps tighter.

• Dependable - The UL4000's charging unit has
normal charge and deep cycle switch positions
for charging the twin, 18 volt, NICAD power packs.

• Safer -A faster, stronger, tighter and easier
installation results in less time in the work zone
and fewer callbacks.